Almond Flour Cookies
Vegan, Oil-free, Gluten-free, No-added Sugar

Prep: 10 min, Bake: 14 min, Total: 24 min, Yields: 16 cookies
Ingredients:
2 cups almond flour
1/2 tsp baking powder
1/3 cup maple syrup
2 tsps vanilla extract
1 Tbsp vegan chocolate chips (optional)
Directions:
Preheat the oven to 350°F. Line a baking sheet with parchment paper.
Mix almond flour and baking powder in a large bowl.
Add maple syrup and vanilla extract and mix until smooth.
Add the chocolate chips, if using, and combine until evenly distributed.
Use a 1-tablespoon retractable scoop to drop about 16 cookies onto a parchment-lined baking sheet.
Bake for about 12 minutes or until the edges are getting golden brown. Do not overbake.
Let cookies cool for about 3 minutes, then transfer to a wire rack to cool completely.
Store in an airtight container in the fridge or freezer.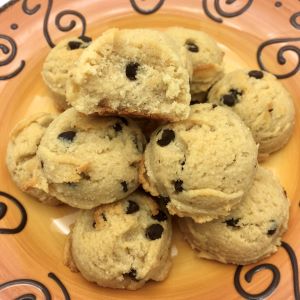 Recent Posts
Vegan, Oil-free*, Gluten-free, BakedPrep: 10 min, Cook: 5 min, Bake: 13-25 min, Total: 40 min, Yie

Vegan, Oil-free, Gluten-freePrep: 25 min, Bake: 13 min, Total: 38 min, Yields: 12 cookiesIngredients

Vegan, Oil-free, Gluten-free, No-added SugarPrep: 10 min, Bake: 14 min, Total: 24 min, Yields: 16 co