Glazed Apple Cider Donuts
Vegan, Oil-free*, Gluten-free, Baked
Prep: 10 min, Cook: 5 min, Bake: 13-25 min, Total: 40 min, Yields: 12 small or 6 regular-sized donuts
Ingredients:
For the Donuts:
1 cup GF oats, ground into flour
1/2 cup almond flour
1/2 cup potato starch
2 tsps baking powder
1 1/2 tsps apple spice (OR 1 1/2 tsps ground cinnamon)
1/4 tsp sea salt
1⁄2 cup maple syrup
1⁄2 cup apple cider (NOT apple cider vinegar!)
1/4 cup aquafaba (the liquid leftover from cooked chickpeas)
1 tsp vanilla extract
For the Apple Cider Glaze:
1 cup powdered sugar
1/4 tsp ground cinnamon
2-3 Tbsps apple cider (NOT apple cider vinegar!)
Instructions for the Donuts:
Preheat the oven to 350°F. Prepare your silicone donut pan/s. Set aside.*
In a large bowl, whisk together all dry ingredients. Break up any lumps. Set aside. (You may do this in a blender.)
Process all wet ingredients in a small blender for about 30 seconds.
Add the wet ingredients to the dry and mix until just incorporated. Do not overmix. Batter will have pourable consistency.
Fill donut pan with batter evenly, leaving the center hole exposed.
Bake donuts until firm to the touch. 13-15 minutes for mini donuts and 18-23 minutes for regular-sized donuts. Check for doneness by inserted a toothpick into a doughnut. It should come out clean.
Cool baked doughnuts in the pan/s for about 5 minutes, then invert onto a cooling rack.
Instructions for the Glaze:
While donuts are cooling, prepare the glaze. Use a small blender or whisk together all ingredients until perfectly smooth. Start with 2 tablespoons apple cider, add more to adjust consistency.
Dip tops of donuts into glaze to coat, place back on the cooling rack and allow to set. If you have glaze left, you can double or triple dip your donuts. You can also sprinkle the glazed donuts with cinnamon sugar.
Notes:
* Since this is an oil-free recipe, silicone donut pans are best. If all you have is a metal pan, you will need to lightly grease it before pouring the batter in.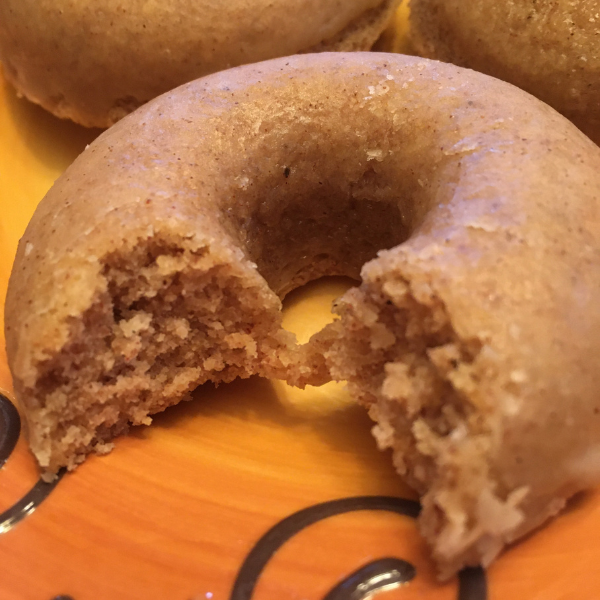 Recent Posts
Vegan, Oil-free*, Gluten-free, BakedPrep: 10 min, Cook: 5 min, Bake: 13-25 min, Total: 40 min, Yie

Vegan, Oil-free, Gluten-freePrep: 25 min, Bake: 13 min, Total: 38 min, Yields: 12 cookiesIngredients

Vegan, Oil-free, Gluten-free, No-added SugarPrep: 10 min, Bake: 14 min, Total: 24 min, Yields: 16 co